HISTORIC PRESERVATION WEEK 2001
POSTER WINNERS
In an attempt to involve and educate the youth of our township, a poster contest was organized by the Northampton Township Historical Society, Committee for Historic Preservation to recognize National Preservation Week 2001, which was celebrated May 13 through 19. Students in the six Council Rock elementary schools located in Northampton Township were invited to participate. The National Trust Organization in Washington, D.C. designated this observance to create public awareness of the plight of historic buildings across the United States.

Posters were required to emphasize the theme – "Restore, Renew, Rediscover Your Township's Historic Buildings." Students were urged to think about why it is important to save our historic buildings and asked to express their ideas on their posters. Judge Warren Hogeland, Police Chief Barry Pilla, and stone artist Larice Burtt selected the winning posters, which were displayed in Northampton Public Library.

Winners in the two categories are: Division A (K-3): 1st Morgan McCredie, Churchville; 2nd Alexandra and JamieLynn Mangold, Richboro; 3rd (tie) Jonathan Zeidler, Hillcrest and Ashley Wright, Hillcrest; Honorable Mention to Kelsey Matlack, Welch. Division B (4-6): 1st Taylor Mangold, Richboro; 2nd Hillary Kotzen, Hillcrest; 3rd (tie) Marissa Illiano, Churchville and Larissa Woloszczuk, Churchville; Honorable Mention to Jaclyn Skoletsky, Hillcrest.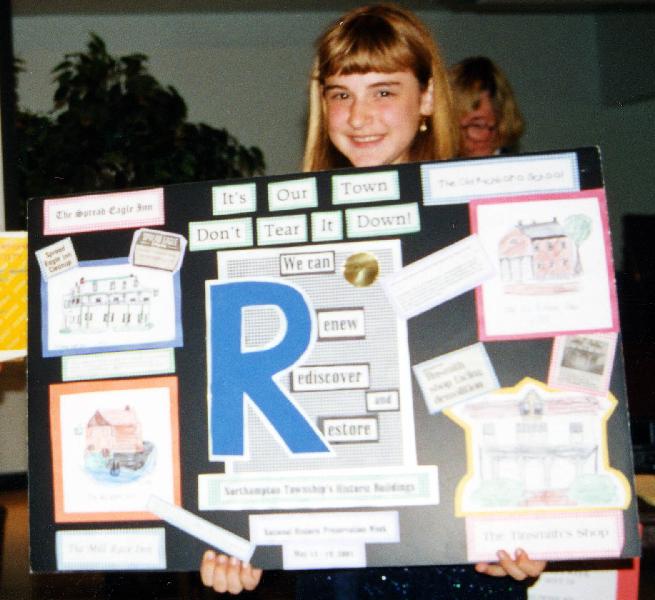 FIRST PRIZE WINNER - 4-6 Grades
Taylor Mangold, Richboro Elementary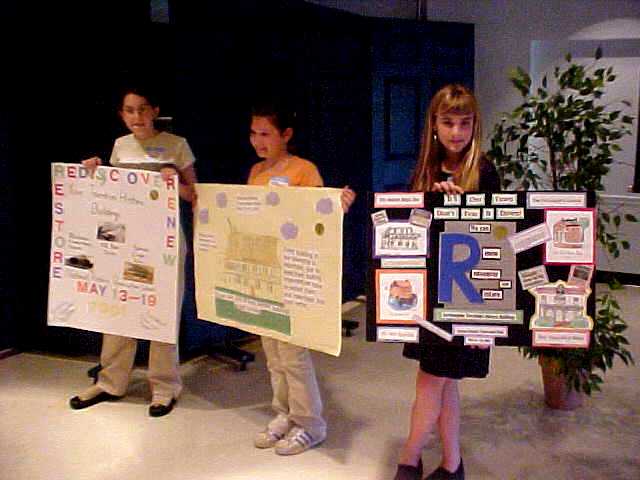 (4th to 6th grade division)
(Left to Right) Hillary Kotzen from Hillcrest Elementary, 2nd prize,
Larissa Wolozsczuk from Churchville Elementary, tied 3rd prize
Taylor Mangold from Richboro Elementaary, 1st prize.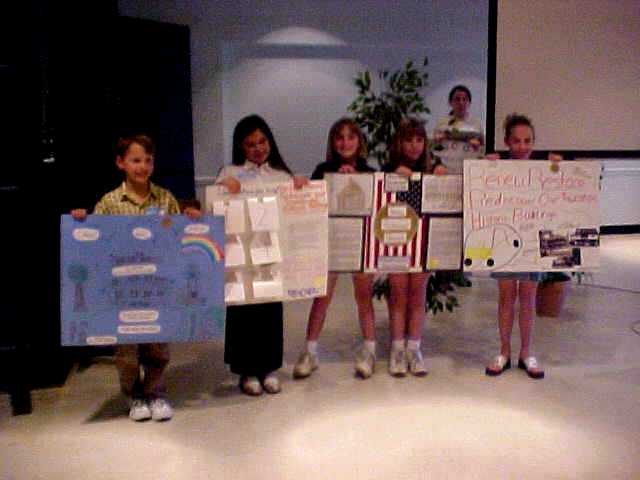 (K to 3rd grade division)
(Left to Right) Jonathan Zeidler from Hillcrest Elementary, tied 3rd prize
Morgan McCredie from Churchville Elem. 1st Prize,
Alexandra and JamieLyn Mangold from Richboro Elementary, 2nd prize,
Ashley Wright from Hillcrest Elementary, tied 3rd prize.
CONGRATULATIONS TO ALL OF THE WINNERS!
THANK YOU FOR HELPING PRESERVE OUR LOCAL HERITAGE!

Return to the Spread Eagle Home Page
&copy2001 Northampton Township Historical Society